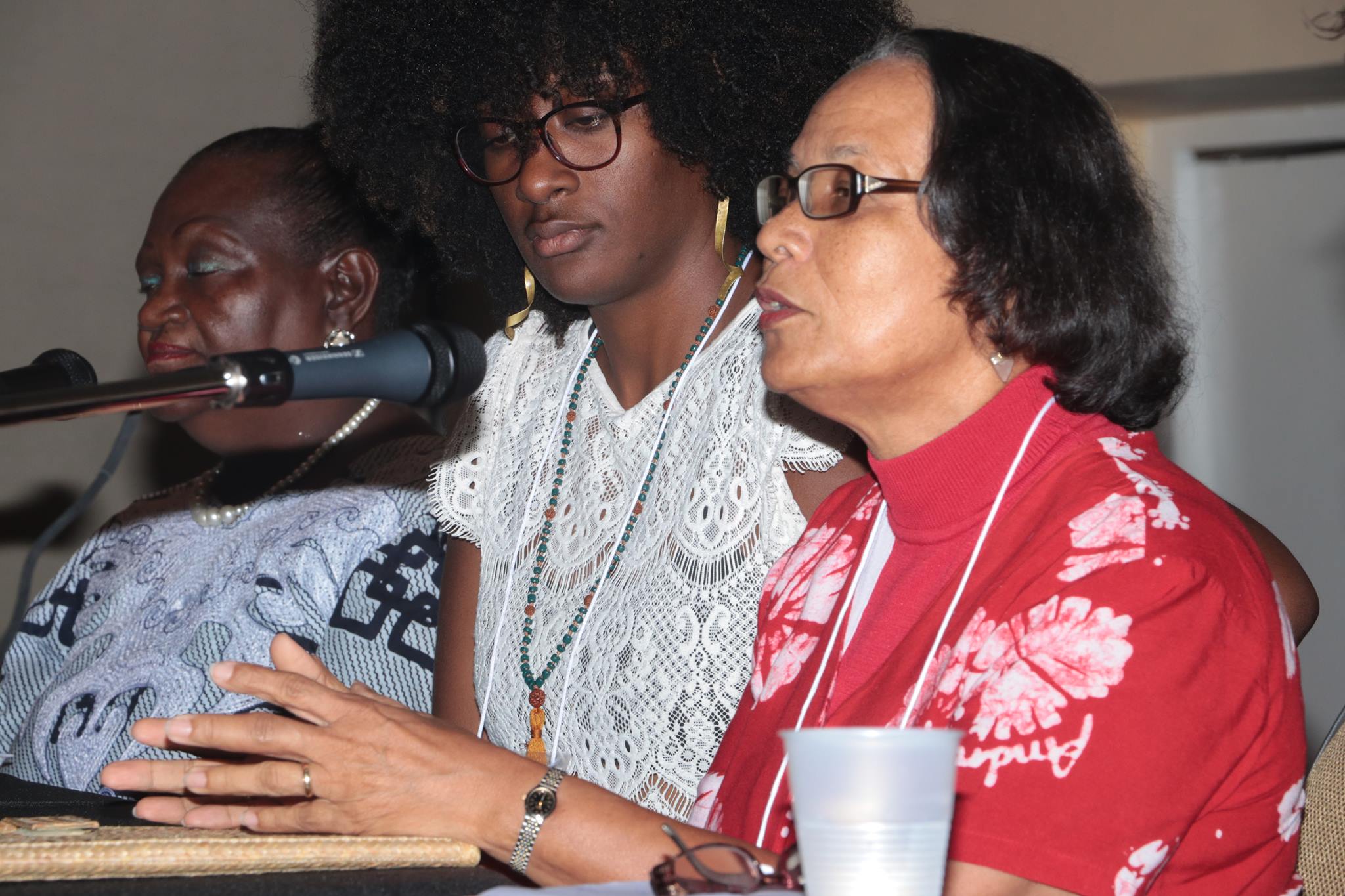 CN President, Pam Burnside was honoured to be invited to participate in a Plenary session entitled: "Activist Interventions: Working on the Frontline" on Friday, June 9 - the final conference day of the week-long 42nd Annual Caribbean Studies Association Conference under the theme "Culture and Knowledge Economies: The Future of Caribbean Development?" which was held at the Meliá Nassau Beach – All Inclusive Resort in Nassau, Bahamas, 5-10 June 2017. The session was moderated by CSA President, Keithley Woolward with other panelists: Dr Rita Pratt of the Bahamas African Heritage Museum, Malaika Brooks-Smith Lowe of Groundation Grenada, and Diana Hamilton of The Cat Island Accordion Camp. (Photos above kind courtesy of Eric Rose, Bahamas Information Services)
The text of Burnside's power point presentation which was delivered in the form of 'Ol' story time', follows :
'ACTIVIST INTERVENTIONS: WORKING ON THE FRONTLINE' :A Doongalik and Creative Nassau story
ONCE UPON A TIME WAS A MERRY OLD TIME, THE MONKEY CHEW TOBACCO AND SPIT WHITE LIME…..This is a story about love and loss, about fate and faith, about purpose and passion, about determination and drive, and about Caribbean culture and creativity.
Once upon this time, there was a big head, boisterous Bahamian boy named Jackson Logan Burnside III who grew up to be an architect, artist, teacher and junkanoo, and a little biggity Bahamian girl, Pamela Jones who grew up to be a lover of words, fashion designer, kindergarten teacher and gallery owner. Both of them looooved The Bahamas with a burning passion, and, as fate would have it, they met in London, England, and fell in love.
J&P came back to an independent Bahamas in the early '70s, got married, and embarked upon a shared mission of 'showing off' Bahamian art to the world by creating 'Doongalik' (that's their own made up word from the 'doong' sound of the junkanoo goat skin drum, and the 'kalik' sound of the junkanoo cowbells), and established Doongalik Studios with the mission statement that: by the year 2020, more visitors will come to The Bahamas because of its Art, Culture and Heritage rather than merely for its sun, sand and sea.
With fierce determination and unmitigated faith, these two cultural entrepreneurs went about the formidable task of promoting Bahamian fine art, culture, architecture, and junkanoo for decades, with a few like-minded artists, and no government assistance, slowly inching forward, one itsy, bitsy step at a time.
Then in 2008, J&P attended the first UNESCO Creative Tourism conference in Santa Fe, New Mexico and returned home fired up to move their mission fast forward with a group of like-minded Bahamians, and BOOM!! Creative Nassau, a registered non-profit, civil society organization was born with the goal of positioning Bahamian Art, Culture and Heritage on the global stage!
With valuable insight gained from the trip to Santa Fe, and using Bahamian Straw craft and the Junkanoo tradition as the main elements, they boldly applied for membership in the prestigious UNESCO Creative Cities Network - an amazing group of 116 cities from 54 countries around the world showcasing Creativity in seven fields, as the driving force for development and sustainability.
This was something that no other Caribbean island had ever done – but J&P were not boisterous and biggity for nothing! They had faith, drive, determination, purpose and passion……and so the years-long journey continued along its path, resolutely pushing Bahamian Art and Culture forward through many activities such as: Transforming Spaces, an amazing annual Art Exhibition developed through the collaborative efforts of the Bahamian art community, an Art Exhibition at the Atlanta Olympics, along with the release of the Bahamian art documentary Artists of the Bahamas, featuring 11 master artists.
But in 2011, fate intervened, and Jackson passed away before seeing the official launch of Creative Nassau in May 2014, and the subsequent success, in December of that year of obtaining that prestigious UNESCO membership for the City of Nassau to become a Creative City of Crafts and Folk Arts, a first for the region and another first because it was achieved without any government assistance!
In the art world Jackson's death was impactful – it triggered the first ever Junkanoo Exhibition "As We Knew Him" at the National Art Gallery of The Bahamas, which finally broke down the barriers between junkanoo and fine art and caused a dray-load of Bahamians to flock to the institution for the very first time. Later that year, a magnificent 'Artists of The Bahamas' Exhibition was mounted at the Waterloo Centre for the Arts in Iowa, travelling later to Florida, and exposing Bahamian art on the international stage.
So now that you know the story of the past, let's imagine what this mean for The Bahamas', as well as the Caribbean region's tourism brand, which has relied primarily on its 'sun, sand and sea' for decades. How relevant do you think this 'sun, sand and sea' model is in the present day 21st century?
Bahamian Royann Dean made this observation, and it is a premise that is being discussed at length within the region, but to what degree is it being seriously considered or implemented in order to realize its true benefits?
The DGLK and CN journey has embraced, and is living the tenets of the UNESCO Creative Tourism model, and is proof that it is successful – just from the efforts of a small group of determined creatives. So imagine what would happen if the powers-that-be, and the wider public came on board!
By making art, culture and heritage the driving force of the tourism engine, and by using the skills of our phenomenally gifted people, who are the unique keepers of these elements, major positive impacts can be made in all of our countries - socially, physically and economically.
In this 21st century, slavery is alive and well, and I repeat – slavery is alive and well, if we continue to be solely dependent upon, and beholden to foreign direct investment, and dictated to by the foreign owned cruise ship industry that we have allowed to define us!
Or, do we wish to become the masters of our own fate, and to take that risk in ourselves: to have faith in our own people, and to believe in our boundless creativity to retain, grow and sustain the uniqueness of our tourism product, like Nevis is doing? Can you imagine the phenomenal impact this would have, and the power we would weld if we would embrace this model together?
This is the important message inherent in "The Orange Economy" – a free e-book which can be downloaded online. Extremely user friendly, it clearly demonstrates why its message is so relevant and immediate for us all – there is no time to lose!
So DGLK and CN journey on with purpose, buoyed by a handful of passionate and determined colleagues who are rightfully proud of these local and international achievements, such as:
a) A thriving crafts Market, held twice weekly in Pompey Square in conjunction with the Downtown Nassau Partnership, to showcase and sell the unique products of 'true-true' Bahamian artisans;
b) A weekly ½-hour Creative Nassau Radio show that airs on Tuesday evenings and Sunday afternoons;
c) A 15-minute straw craft documentary that is available free on our facebook page. This project has led to the drafting of a Memorandum of Understanding with the Ministry of the Environment under the Forestry Act, for the purpose of protecting and sustaining the valuable raw materials for the Straw craft industry found mostly in the Family Islands. Additionally, an application has been submitted to UNESCO for the possible inscription of Bahamian Straw craft on the Representative List under the Intangible Cultural Heritage Convention;
d) The opportunity to showcase Bahamian art and craft by curating the 12 display cases at the Lynden Pindling International Airport;
e) A summer school arts programme in collaboration with the IDB, which impacted over 50 students by exposing them to the positive influence of artistic endeavours. As a result of this activity, a MoU has also been signed with Teleica Kirkland (pictured below) of the Costume Institute of the African Diaspora in London, England for a students' exchange programme centred around Bahamian straw and sustainable fashion.
f) A presentation on Bahamian Art and the Economy at an IDB Conference in Washington which sparked the interest in 'The Orange Economy' model that will result in a webinar later this year;
g) Participation in the 2015 and 2016 annual UNESCO AGMs in Kanazawa, Japan and Ostersund, Sweden, with plans for other trips abroad to collaborate on creative exchanges with sister cities;
h) The collaboration, along with other civil society groups, on the IDB's Emerging and Sustainable Cities Initiative for the Redevelopment of Downtown Nassau and the Bain & Grants Town residential community which was also presented internationally during the AGM in Sweden.
As my story winds down, strangely enough in another twist of fate, this year is proving to be a magical one with the journey coming full circle as DGLK and CN have been invited to be intimately involved in the unfolding of a Creative Tourism model with the Atlantis, Paradise Island Resort in the establishment of a successful twice-monthly Art Walk in Marina Village!
This event allows Bahamian artists, artisans, musicians and farmers to showcase and sell their products and produce to the local and visiting public. In addition, DGLK and CN have also been an integral part of Atlantis' recent 'Come to Life' Re-branding Launch which has been designed to offer the visitor a 'true-true' experience of Bahamian culture through the Bahamian people 'being who dey is and not who dey ain't!'
The journey has been long, and the journey has been lonely, and although the road has been steep and winding, and dark, and filled with potholes, the steady movement towards the destination has not wavered, and there, in the distance, a light is shining, brighter every day, lighting the way for us to encourage and welcome others to join hands on the road to the future. …2020 is just around the corner and we gan soon reach!
BE BO BEN, MY STORY END…Thank you!